Tokyo Modern (gendai) Haiku Poet "Four Generations" Symposium
Poet Biographies & Haiku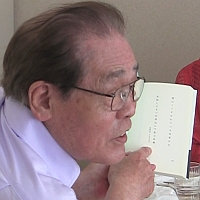 川名つぎお Kawana Tsugio (b. 1935 –, Tokyo).
Currently, Secretary of the Modern Haiku Association (Gendaihaikukyôkai), and General Manager of the Yearbook Department. He is a professional screenwriter and playwright. He is the winner of the Okinawa Memorial Day Haiku Prize, 2004. In 1957, he entered Kokugakuin University, and founded the Film Club. That same year he produced the short film, Chîsana gen'ei [The Little Mirage: An Urban Boy's Dream, 20 min.], the first independent movie produced by a student in Japan (excepting those of the Fine Arts program at Nihon University).
In 1958, he focused on the problem of education in rural areas, producing the short film, Yama ni ikiru ko ra [The Children Live in a Mountain; 27 min.]. This was his first professional work. In 1965, he founded the Partisan Style Poetry Book Club [Paruchizan shiki shishu no kai], and gathered donations for the publication of his own book of poetry. As a result, Hatachi no gûwa [The Fables of Twenty] was published.
In 1968, he became deeply involved in significant social movements of the era — anti-war, anti-nuclear, anti-establishment, etc. He published his book of poetry, Seishun no kigen [The Origin of Adolescence], then made a film featuring night-school students in poverty, Dakkan soshite kaihô [Get Back and Liberate It; 87 min.]. This film created newfound enthusiasm among student-movement activists to produce their own works, especially via Zengakuren [the All-Japan Federation of Student Self-Governing Associations]. Moreover, he edited a poetic anthology of a group of young activist-authors, Eikyû kakumei no koiuta [Love Song of Permanent Revolution], published in 1969. His major haiku collections are Tei [Degree] (Modern Haiku Association Press, 1992), Jin [Questions] (Modern Haiku Association Press, 2005), and Ani [However] (Modern Haiku Association Press, 2014).
Kawana Tsugio – Haiku
ぼくの忌やいつまでも照明弾の路地
boku no ki ya itsumade mo shômeidan no roji
anniversary of my death – forever a narrow alley of flare bombs
ヒロシマの氏神は何をしていたのか
Hiroshima no ujigami wa nani o shiteita no ka
What was the Hiroshima god doing?
(Note. The kami (deity) of Hiroshima is ujigami)
からだの風景を鷹が舞っている
karada no fûkei o taka ga matteiru
within the scene of a body
a hawk
dancing in air
沖縄はずっと立ち泳ぎのままだ
Okinawa wa zutto tachioyogi no mama da
Okinawa
always remains
— treading water
荒地あり月曜日が届けられる
arechi ari getsuyôbi ga todokerareru
a wasteland here –
Monday is delivered
今朝の秋きのうのおれがまだ着かぬ
kesa no aki kinô no ore ga mada tsukanu
autumn has come –
the me of yesterday
not yet arrived
(Note. The traditional kigo kesa no aki, "first day of autumn," occurs on August 7, a day between the two atomic bomb attacks. Thus "me of August 6" is the day of the Hiroshima bombing.)
なりゆきがいくつか駅に置いてあり
nariyuki ga ikutsuka eki ni oite ari
in the course of events
items left at a train station
arranged
焦土以来ずっと走っている夢
shôdo irai zutto hashitte iru yume
since the burned ground forever run in dreams
(Note. "burned ground": war devestation)
靴音が昭和瓦礫を出ていない
kutsu oto ga shôwa gareki o dete inai
footfalls sound
from Shôwa wreckage
without exit
(Note. Shôwa era: 1926–86)
飛ぶ星の数ほど母を売りにけり
tobu hoshi no kazu hodo haha o uri ni keri
as abundant as shooting stars
I sold my mother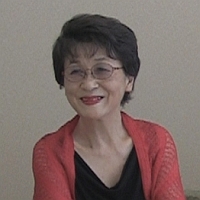 池田澄子Ikeda Sumiko (b. 1936 –, Kamakura, Kaganaga Prefecture).
Grew up in Nîgata Prefecture. Began composing haiku in her 40s. Studied haiku with Horî Kei and Mitsuhashi Toshio. Won the 36th Modern Haiku Association Award in 1989, and So Sakon Haiku Award in 2006. Became a Kadokawa Haiku Award judge. Her major haiku collections are, Sky Garden [Sora no niwa] (1998); Before I Knew I Was Born as a Human [Itsushika hito ni umarete] (1993); Gendai Haiku Collection Vol. 29: Ikeda Sumiko [Gendai haiku bunko 29: Ikeda Sumiko] (1995); The Sailing Ship [Yukufune] (2000); Story on a Soul [Tamashî no hanashi] (2005); Dear Sir in Reply [Haihuku] (2011).
Ikeda Sumiko – Haiku
ピーマン切って中を明るくしてあげた
pîman kitte naka o akaruku shite ageta
cutting a green pepper
to light its inside
じゃんけんで負けて蛍に生まれたの
janken de makete hotaru ni umareta no
loosing "rock-paper-scissors"
born as a firefly . . .
いつしか人に生まれてきたわ アナタも?
itsushika hito ni umarete kita wa anata mo?
before I knew
born as a human
you too?
的はあなた矢に花咲いてしまいけり
mato wa anata ya ni hana saite shimai keri
my target: you
on my arrow blooms
a flower
月の夜の柱よ咲きたいならどうぞ
tsuki no yo no hashira yo sakitai nara dôzo
As a moonlit pillar desires to bloom? If you so, as you like.
月おぼろ実は…のあとが聞きとれぬ
tsuki oboro jitsuwa no ato ga kikitorenu
hazy moon – I can't hear after, "Actually I ... "
初恋のあとの長生き春満月
hatsukoi no ato no nagaiki haru mangetsu
first love, then after
longevity –
full spring moon
原爆落とされし日の屋上の望遠鏡
genbaku otosareshi hi no okujô no bôenkyô
A-bomb dropped
a rooftop telescope
on the day
かなかなや死は外海へゆくごとく
kanakana ya shi wa soto-umi e yuku gotoku
autumn cicada –
death as if going
to the open sea
日は西へ飛花は次々わたくしへ
hi wa nishi e hika wa tsugitsugi watakushi e
the sun sets west
cherry blossoms fall
toward me, again, again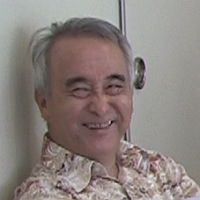 前田弘 Maeda Hiroshi (b. 1939 –, Osaka).
Moved to Hokkaido in 1943, and grew up there. In high school, he founded the haiku journal-group, Kaze [Wind], which later became Haguruma [Gears]. Studied haiku with Suzuki Ishio, and moved to Tokyo in 1963. He joined the Modern Haiku Association in 1982, becoming Executive Director [kanji], Chief of the Yearbook Department, and Chief of the Advertising Department of the MHA, in 2001. Became the official leader of the Haguruma journal-group in 2006. Later, became the chief editor of the Gendai Haiku Journal of the MHA. Won the 2010 "Second Prize," 65th Modern Haiku Association Award. In the following year, won the "First Prize" of the 66th Modern Association Award.
Maeda Hiroshi – Haiku
雪降れば胎児消ゆるか海の道
yuki fureba taiji kiyuru ka umi no michi
when it snows
a fetus vanishes ?
path of the sea
蛸の脚八本どれも暇そうで
tako no ashi happon doremo hima sô de
eight octopus tentacles all look slack
いちまいの枯葉見たくて玻璃みがく
ichimaino kareha mitakute hari migaku
longing to see
a withered leaf – through crystal quartz
polished
クラス会明日は熊を撃ちに行く
kurasukai ashita wa kuma wo uchi ni iku
a classroom party –
tomorrow I'll go shoot a bear
葉脈に母が集まる月夜かな
yômyaku ni haha ga atsumaru tsukiyo kana
around leaf veins
mothers gather –
moonlit night
海のほか海しか見えず実玫瑰
umi no hoka umi shika miezu mihamanasu
except the sea
only the sea in view —
fruits of a seaside rose
やどかりや汽車待つ間のうす笑い
yadokari ya kisha matsu aida no usuwarai
hermit crab –
waiting for a train
with dingy smile
指で消すいもうと海のさくら散る
yubi de kesu imôto umi no sakura chiru
by fingers erasing
my sister – the sea
cherry blossoms fall
屈葬の青木にもどる春の蝉
kussô no aoki ni modoru haru no semi
fetal burial –
return again to tree's green
spring cicada
半分は夕日の手紙冬桜
hanbun wa yûhi no tegami fuyuzakura
half of it's
the setting sun's letter:
winter cherry-blossom
兜太ほどなじめぬ溲瓶鳥渡る
tôta hodo najimenu shibin tori wataru
unlike kaneko tohta
unfamiliar with a piss pot –
birds migrate
柩なら自分で選ぶ冬桜
hitsugi nara jibun de erabu fuyuzakura
a coffin?
i'll bring it myself –
winter cherry blossoms
大井恒行 Ôi Tsuneyuki (b. 1948 –, Yamaguchi Prefecture).
Attended Ritsumeikan University night school, in Kyoto. Although he wasn't a member of any sectarian group, he was committed to the Ampo protests of the 1970s. In his Junior year, he dropped out of school and went to Tokyo to become a writer. Today he is a member of the Modern Haiku Association and the Japan Writers' Association. He is a judge of the Modern Haiku Association Awards for New Poets. He is also President of the National Bookstore Workers, and the Workers Union Connection Council.
Ôi Tsuneyuki – Haiku
嗚呼!嗚呼!と井戸に吊るされ揺れる満月
â! â! to ido ni sturusare yureru mangetsu
ah! ah!
hanged in a well
a full moon sways
から泣きの空から泣きの草が生え
karanaki no sora kara naki no kusa ga hae
from tearless sky from tears
weep grasses grow
木霊降るいちずに夕陽枷となり
kodama furu ichizu ni yûhi kase to nari
kodamas fall –
the setting sun fetters
single-mindedly
(Note. kodama, a tree spirit in Japanese folklore, reflecting human or anthropomorphic voice within the forest wilds; cf., Dryad, or Echo, in Greek mythology.)
頭髪(かみのけ)のなかまで赤き砂降れり
kaminoke no naka made akaki sunafureri
even into hair on the head
red sand falls ...
日はひとたびの夢間めぐれる獄舎(ひとや)かな
hi wa hitotabi no yumema megureru gokusha kana
a day's a journey once among dreams in a prison cell
遺髪ひとつはかりかねてる秤がある
ihatsu hitotsu hakarikaneteru hakari ga aru
a bunch of hair of the dead
hesitating to weigh it
in balance
されど雨されど暗緑 竹に降る
saredo ame saredo anryoku take ni furu
however rain however dark green –
falls on bamboo
風鈴も重たき風の鳴り出さず
furin mo omotaki kaze no naridasazu
a wind bell heavy too –
the wind doesn't start to ring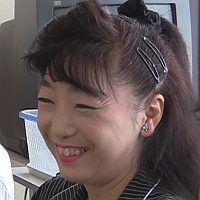 森須蘭 Morisu Ran (b. 1961 –, Tokyo).
Graduated from Ferris Women's Junior College (now Ferris Women's University). She began writing haiku during her days at Ferris, and joined the MHA in 1993. Within the MHA, she worked as a committee member of the Youth Department, the Study Department, the Junior Study Department, and the Information Technology Department. Today, she works as a committee member of the Yearbook Department, and is the Executive Director of the Tokyo Chapter of the MHA. She is also a judge of the "ITO-EN Ôi Ocha New Haiku Contest." She has led her journal-group Dionysian [Saien] since 2000. Her major haiku collections include, Only to See You [Kimi ni au tame] (2000), and The Sky Ship [Sorafune] (2010). She has also published educational books, such as Memorizing 100 Haiku to become a Master (2009).
Morisu Ran – Haiku
ラムネ飲み海を解放してあげる
ramune nomi umi wo kaihô shite ageru
drinking lemonade liberating the sea
仰向いて銀河繋いでいる裸体
aomuite ginga tsunaideiru ratai
lying on my back
connecting galaxies
naked
君に会うただそれだけのため桜
kimi ni au tada soredake no tame sakura
only to see you
only this – cherry blossoms
蝸牛一生水平線でいる
katatsumuri isshô suiheisen de iru
a snail
until the end of its life
its horizon
誰待つとはなく満月を着用す
dare matsu to wa naku mangetsu wo chakuyô su
not waiting for anyone
wearing a full moon
新緑に音を残してきたらしい
shinryoku ni oto wo okoshite kita rashii
in fresh green
sound left behind
perhaps ...
直感の折れていますが曼珠沙華
chokkan no orate imasu ka manjushage
intuition's broken and folded
yet
spider lily
真夜中の蹠は枯野の一部分
mayonaka no kakato wa kareno no ichibubun
midnight's feel's a part of a withered field
眠たくて蒼に届かぬ春の川
nemutakute ao ni todokanu haru no kawa
drowsiness
out of reach of blue
river in the spring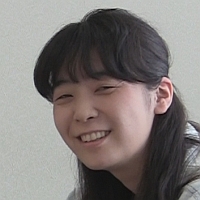 高遠朱音 Takatô Akane (b. 1985 –, Tokyo; birth name Kaneko Risa).
Won the "ITO-EN Ôi Ocha New Haiku Contest" in 1999. Joined the MHA in 2000, as its youngest-ever member. In 2007, graduated from Risshô University and began work in web design. At the same time began work as a committee member of the Junior Study Department of the MHA. Her major haiku collection is Night Flyer (2009).
Takatô Akane – Haiku
夜間飛行下界すべてが水族館
yakan hikô gekai subete ga suizokukan
a night flyer
all the world below
an aquarium
日記買う安眠のないコッペリア
nikki kau anmin no nai kopperi
buys a diary
Coppélia lacking sleep
(Note. Coppélia, a comic-ballet, concerns a Dr. Coppelius, who has invented a life-size dancing doll.)
空蟬に真昼の海が残っている
utsusemi ni mahiru no umi ga nokotte iru
inside an empty shell
of cicada – the sea in the afternoon
remains
不器用な長女の嘘ですカーネーション
bukiyô na chô jo no uso desu kânêshon
the awkward lie of an eldest daughter carnation flower
水の無い水槽が好き 白夜
mizu no nai suishô ga suki byakuya
cherishing a waterless aquarium the midnight sun
シャツ脱いで私の続きは初夏の海
shatsu nuide watashi no tsuzuki wa shoka no umi
taking off my shirt
the rest of the story of myself
early summer sea
水底の眠り遠くに蛍狩
minasoko no nemuri tôku ni hotarugari
sleep on the sea bottom – far away hunting fireflies
蜻蛉孵化眉間のしわの深くなり
kagerô fuka miken no shiwa no fukaku nari
a day-fly hatches
a line between my wrinkles
deepens
蒼野揺らす太古のため息
aono yurasu taiko no tameiki
shaking a green field
a prehistoric sigh
足音に足音の影や晩夏
ashioto ni ashioto no kage ya banka
in footsteps sound footstep's shadow the end of summer